Room for Grays Again

Royal College of Art, Sculpture Degree Show, 2018.

A project developed with Richard Green, a retired psychiatrist and lawyer, who was also my father. His academic research ultimately focused on sexual orientation and gender identity, but he initially hoped to become an actor. This project addressed his performance within professional roles in the lecture theatre, the courtroom, and on television. It also discussed the difference between personal and professional opinion, the reassurance he found in having an 'afterlife' as an archive of such opinions, and how those opinions might be understood in the present day: "It is easy now to be seen as conservative for espousing what was then dangerously revolutionary," he said. The work finally exposed some of the conditions of, and reasons for, Richard taking part in the project.

Richard has summarised his career as follows: " Pioneering psychiatrist and lawyer in sexual orientation and gender identity. Campaigned to delist homosexuality as a mental disorder (1972), advocated same-sex marriage (1974), endorsed transsexuals for surgery (1966), documented the development of male homosexuality from young boyhood (1968 to 1986). Promoted sexual science as an academic discipline: Founding Editor, Archives of Sexual Behavior (1971), Founding President, International Academy of Sex Research (1974)."

The project consisted of an installation with three works: Narrative Verdict and Performance Review in the main space, and Support in Kind, in a small adjacent space. These were supplemented by two live enactments, Based on Actual Events, which took place in the main space during the show.

Richard died nine months after this project on April 6, 2019. He was 82 years old.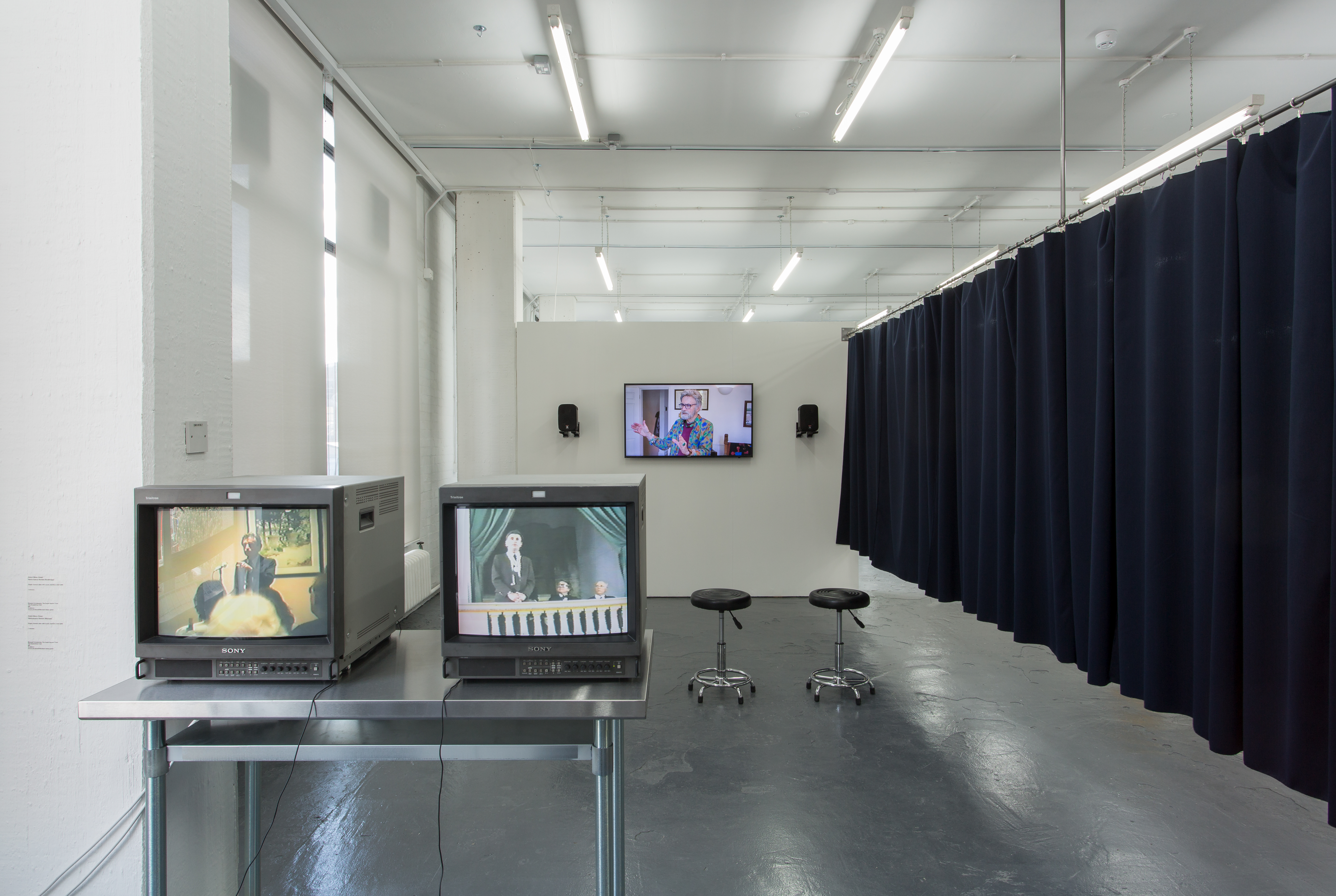 Richard also kept a personal video archive of his past academic lectures and TV appearances, largely on VHS, from the 1970s, 80s, and 90s. Narrative Verdict is shot in a single take, and documents his attempt to re-perform a script composed entirely of quotation from his own archive, while receiving continuous direction and prompts from me.

Narrative Verdict
Single-channel 4K video with sound
20 minutes

Excerpt 1:



Excerpt 2:






Two videos from Richard's VHS archive were re-presented to him for the first time in almost thirty years. His spontaneous responses were recorded and subsequently overlaid onto the original footage.

The footage in Performance Review (Warsaw) documents a lecture he gave in Warsaw c.1990 criticising the Catholic Church and their attitude towards homosexuality. Richard believes the VHS documentation he was ultimately provided with was censored by the Polish state.
The footage in Performance Review (Northridge) documents an audience member at a lecture in California in the early 90s accusing Richard of being a defence attorney for sex offenders, which he denies.

Performance Review (Northridge)
Single-channel video with sound
7 minutes (excerpt below)



Performance Review (Warsaw)
Single-channel video with sound
7 minutes (excerpt below)








Support in Kind
Two single-channel videos on loop, articulated monitor arm, desk, swivel chair, carpet tiles, carpet trim, studio kitchen
Videos 11 minutes and 6 minutes respectively

The left monitor features transcribed text from a conversation between Richard and me about why he is taking part in the project, and what the conditions of his participation are. The right monitor features a walkthrough of Richard's flat. The walkthrough finishes and ends in his living room, the stage for his performance in Narrative Verdict (above).




Based on Actual Events

Two live enactments where Richard improvises responses to a range of material planted around the degree show space. The material relates to either his personal or professional history. He is directed around the space by me over speakerphone.

Based on Actual Events (26th June 2018)

Richard generates a narrative including: his expert witness defence of the film Deep Throat against obscenity charges in the USA for its 'educational value' prompted by a poster of the film; his book The Sissy Boy Syndrome and the Development of Homosexuality and the funding provided by the Playboy Foundation for some of his research, prompted by a paragraph in the acknowledgements section of the book; the controversy around his paper "Homosexuality as a Mental Illness" and how he had cast himself in "a dubious professional position" by refusing to agree with the American Psychiatric Association that homosexuality was a mental illness; lying and truth-telling as it applies to art and science prompted by a warning that introduces his book - "Artists lie to tell the truth, scientists tell the truth to lie" [Robert Stoller]. It finishes with Richard discussing how his acting ambitions were 'sublimated' into his professional career, prompted by a review of his performance in a stage production of 'A Hatful of Rain'. He suggests that such an interest might be genetic given that his son creates art, and it seems to him that his son has 'given up' medicine to pursue it.

Based on Actual Events (Ist July 2018)

Richard generates a narrative including: his earliest memory of heterosexual arousal prompted by seeing his mother nude, which was positively encouraged by his father, prompted by a photograph of his parents from the 1920s; gleaning "valid" psychiatric information and subsequently endorsing sex-change surgery in the 1960s, prompted by a letter he wrote as a trainee to a surgeon in Italy; his initial theory that boys who wanted to be girls in their youth would become transsexual as theorised in his book Sexual Identity Conflict in Children and Adults, prompted by his conclusion in the book (which he subsequently deemed invalid based on his further research); the parenting rights of a lesbian couple for whom Richard served as an expert witness in Licking County, Ohio, prompted by the court transcript in which the judge asks Richard: "Dr Green, how is the sex act between lesbians accomplished? … Do you consider that normal?"; same-sex marriage defended on a television programme prompted by a transcript of the show; the McMartin Preschool sexual abuse case in California, and how questioning styles can provide the answers interviewers want to hear, prompted by a photograph of the preschool. It finishes with Richard discussing his acting ambitions again, prompted by a promotional portrait taken of him for his early theatre career, where he reports he looks similar to the actor Montgomery Clift.

Video stills from live enactments: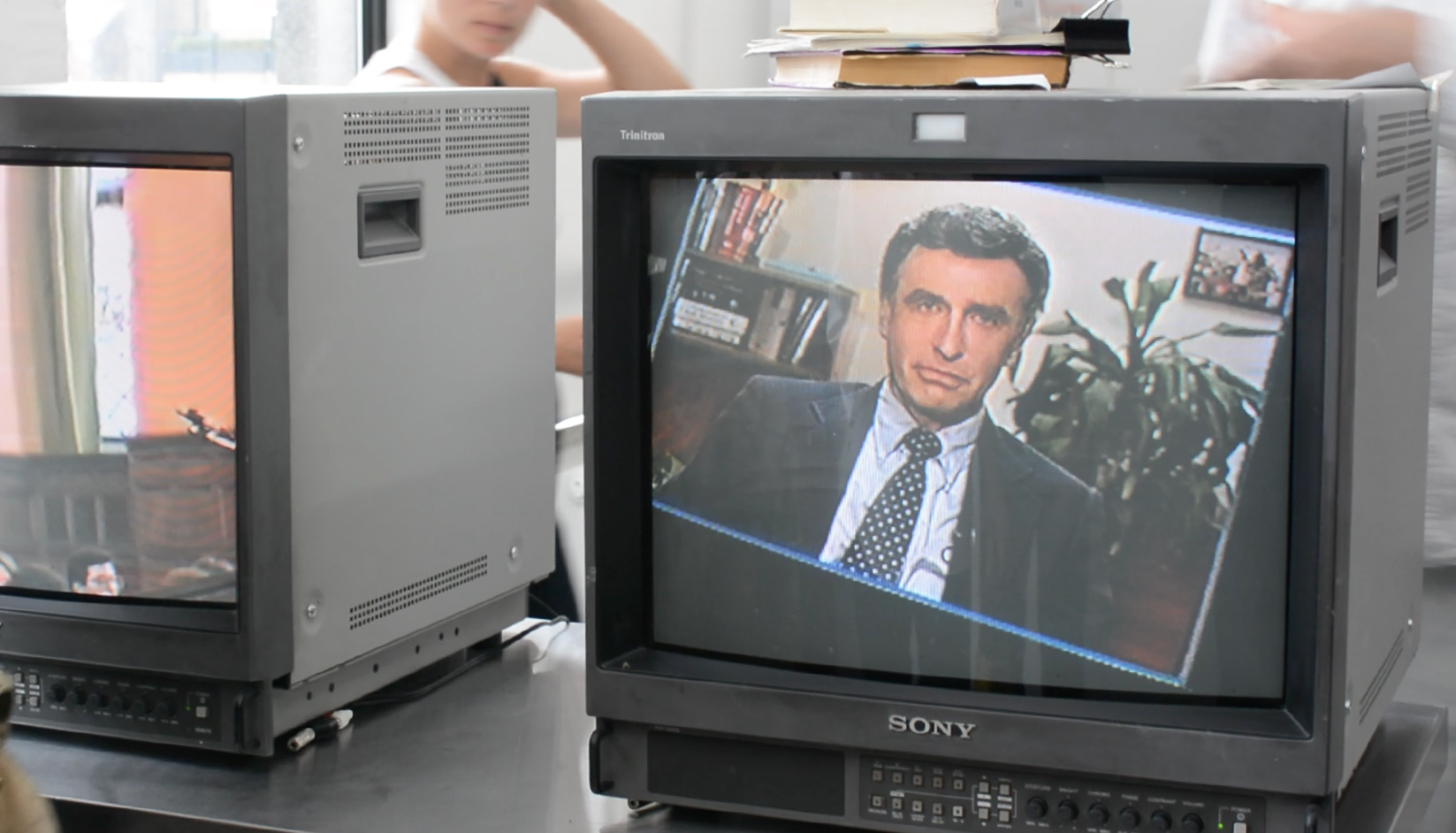 Installation photos by Oskar Proctor.
Videos of live enactments by Melo Boerner.
Special thanks to James Fuller and Sarah Jeffrey.